Parking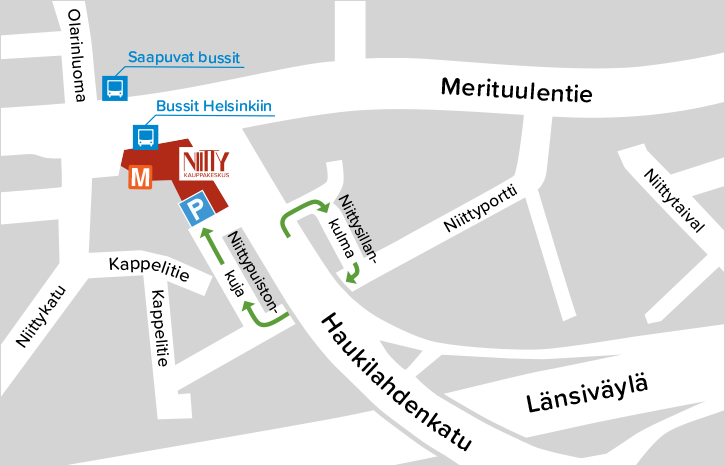 Parking at Niitty
There is parking space for 150 vehicles on the second and third floor. Entrance to the parking facility is via Niittypuistonkuja. The maximum height of the vehicle in the garage is 2,2 meters.
Opening hours for parking hall
Mon-Sun 4:30-00:30
Parking fees and instructions
Parking is free for 2 hours at Niitty. Following hours are €1/h. The use of Q-Park Easy parking facilities is based on automatic identification of your car's registration number. As you arrive and leave, a camera recognises your car, and the parking time is determined based on the time your car was in the parking facility. You can drive in and out without stopping!
Methods of payment
If your stay is over 2 hours, please choose one of the payment methods listed below:
1. Mobile app*
Taskuparkki app is the most convenient way to use Q-Park Easy parking facilities, as the parking fee is charged automatically from the payment card added to the app.
2. Web application*
Set up your Taskuparkki account and automatic payment info in the web application.
3. Payment machine
You can also pay for the parking before you drive out by entering your car registration number into the payment machine and following the instructions on the screen.
4. Invoicing
We will send you an invoice by mail if you have not paid for your parking using the above-mentioned methods. An invoicing fee of €5 is added to invoices.
* Method of payment must be in use (installed/registered) before arriving at the parking facility.
Park & Ride
Parking for 10 hours with HSL ticket and € 2 fee (05:00 - 17:00) or 24 h (20 places).
Do this:
1. Once you have parked your car, show your valid HSL ticket to the reader.
2. Insert your registration number and pay €2.
3. When you are leaving, you can drive straight out if your car was parked within the permitted timespan.
4. Otherwise, you need to pay the fee of €1/h at the payment machine before driving out.
Q-Park
Customer service
020 781 2400
www.q-park.fi
Welcome to the Shopping Center Niitty!
Shopping • Eating • Enjoying