Parking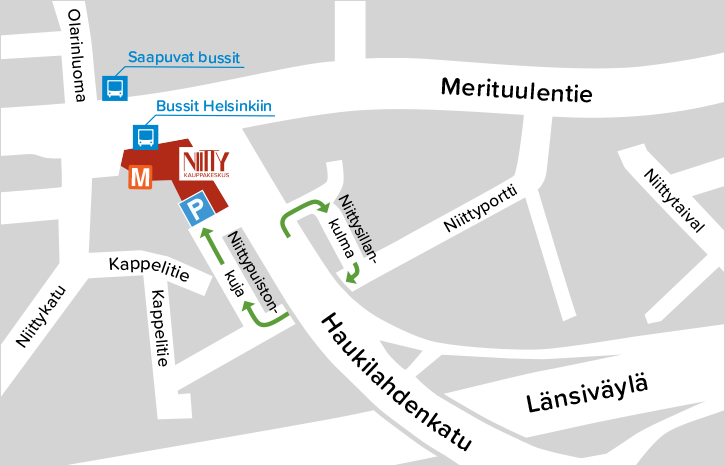 Parking at Niitty
There is parking space for 150 vehicles on the second and third floor. Entrance to the parking facility is via Niittypuistonkuja. The maximum height of the vehicle in the garage is 2,2 meters.
Opening hours for parking hall
Mon-Sun 4:30-00:30
Parking fee
First two hours are free with parking disk
Following hours: €1/h
24 hours: €10
Minimun fee: €0,5
Parking tickets must be collected from the ticket machine for chargeable parking.
Method of payment
EasyPark: Area number 777
ParkMan
Coins
Credit card
NB! You must enter your licence number in the ticket machine when paying.
Parking enforcement
ParkkiPate Oy
Tel. 020 721 8499 (Mon-Fri 9-16)
Call costs 8,28 ¢/call.
+landline 8,76 ¢/min
+mobile 23,1 ¢/min
www.parkkipate.fi
Welcome to the Shopping Center Niitty!
Shopping • Eating • Enjoying